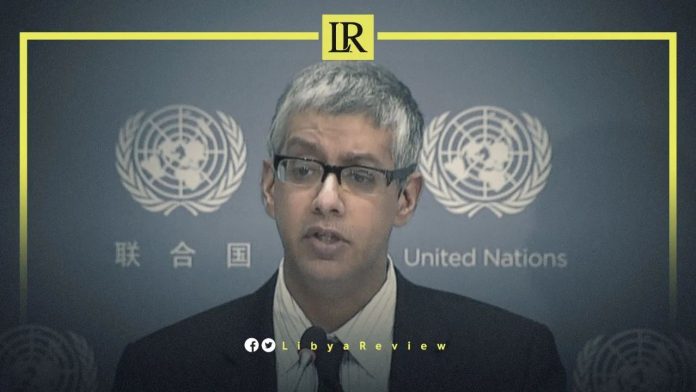 Farhan Haq, the Deputy Spokesman for the UN Secretary-General, stated that the 5 + 5 Joint Military Commission (JMC) and the liaison committees in Libya, Sudan, and Niger agreed on joint and integrated coordination over facilitating the complete withdrawal of mercenaries and foreign fighters out of Libya.

In a briefing at the UN headquarters in New York on Thursday, Haq said that he had attended a military meeting that was held in Cairo, headed by UN Envoy to Libya Abdoulaye Bathily.

Haq quoted Bathily as saying that the "decision to establish a mechanism for the withdrawal of foreign mercenaries is an important step towards establishing lasting stability and peace in Libya."

He added that this "is also an important step towards creating a suitable environment for the political process, including holding elections in 2023."

Bathily pointed out that "the atmosphere of cooperation that prevailed in the meeting reflects the common desire of Libya, and its neighbours to end the presence of mercenaries and foreign fighters."

On Wednesday, the United States Embassy in Libya reiterated its support for the withdrawal of foreign forces from Libya.

"The United States welcomes this initiative and supports SRSG Abdoulaye Bathily's calls for the withdrawal of foreign fighters and mercenaries from Libya. Their destabilizing presence undermines security and fuels regional instability," it tweeted.

Libya has been in chaos since a NATO-backed uprising toppled longtime leader Muammar Gaddafi in 2011. The county has for years been split between rival administrations, each backed by rogue militias and foreign governments.

The current stalemate grew out of the failure to hold elections in December, and the refusal of Prime Minister Abdel-Hamid Dbaiba, who is leading the transitional government, to step down. In response, the country's eastern-based Parliament appointed a rival Prime Minister, Fathi Bashagha, who has for months sought to install his government in Tripoli.