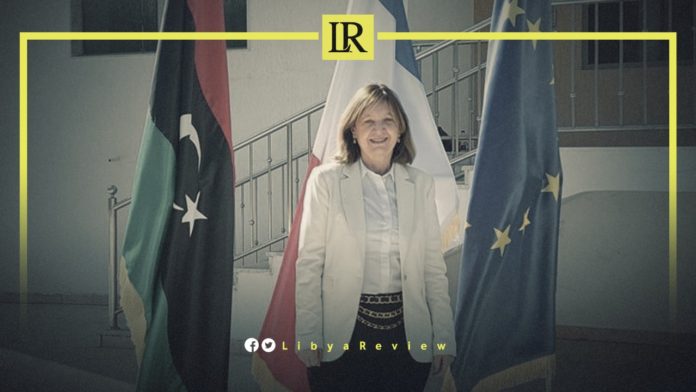 On Tuesday, France Ambassador to Libya, Béatrice Du Helen said that a French committee will visit Libyan airports to review the resumption of air traffic between the two countries.
During her meeting with the Undersecretary of the Libyan Ministry of Economy, Suhail Abu Shiha, Du Helen affirmed the French government's readiness to provide support to Libya at all levels.
She also indicated that France is seeking to resume its diplomatic work from its embassy in Tripoli, as soon as possible.
The meeting came within the framework of activating and developing bilateral cooperation, according to a statement published by the Ministry of Economy. "France looks forward to cooperating with Libya in the fields of economy and trade, and creating an exemplary economic partnership," Du Helen told the Libyan officials.
She also pointed out the desire of France companies to invest in Libya, especially in the energy, free trade, healthcare, transportation, and the development sectors in Libya.
In turn, Abu Shiha announced the organization of a Libya-France economic forum, under the auspices of the Libyan-French ministers of economy and trade.
The Federation of Chambers of Commerce in the two countries will participate in the forum, which will be held in the period from 10-12 October.
"They will discuss and exchange information, and review opportunities for cooperation in areas of common interest," according to the statement by the Libyan Ministry of Economy.
On Sunday, the Libyan government announced the resumption of direct flights to Cairo at the end of September.
"The civil aviation departments of both countries agreed to take necessary measures to start direct flights from the airports of Mitiga, Misrata, and Benina to Cairo starting from 30 September," said government Spokesman, Mohamed Hamuda.