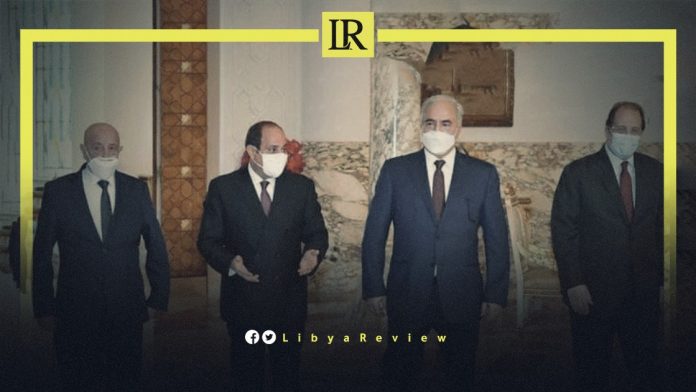 The General Commander of the Libyan National Army (LNA), Field Marshal Khalifa Haftar and Speaker of the Libyan Parliament, Ageela Saleh arrived in Egypt to hold talks with senior officials.
Sources told Al-Ain News that the visit, comes as part of Cairo's framework to resolve the crisis of Prime Minister Abdel-Hamid Dbaiba's "obstinacy" in handing over power. This is in a way that protects Tripoli from the outbreak of a new war.
Cairo is a key player in the reconciliation between the Libyan parties. It is working to secure a consensus between the various factions, and prevent the current crisis from escalating.
The visit came hours after the British Ambassador to Libya, Caroline Hurndall met with Haftar in Benghazi.
Hurndall said she called on all parties in Libya to communicate with the UN envoy, Stephanie Williams, to avoid a return to war.
"I saw Field Marshal Haftar and was clear on the need to avoid a return to conflict. We also discussed Russia's invasion of Ukraine, and the importance of withdrawing all mercenaries from Libya," Hurndall tweeted.
Earlier this month, Egyptian Foreign Minister, Sameh Shoukry praised the Libyan Parliament's appointment of a new government led by, Fathi Bashagha. It confirmed that the Parliament remains the only elected legislative body, entrusted with granting legitimacy to the executive authority.
During his speech at the 157th session of the Arab League Council, Shoukry affirmed Cairo's efforts in achieving peace and stability in Libya.
The Egyptian FM expressed his support for the efforts of the 5+5 Joint Military Commission (JMC) to withdraw foreign fighters, and mercenaries from Libya, without exception.
He stressed the need for all parties to commit to halting military action, in order to preserve the nation's security and stability.
On 10 February, the Speaker of the Libyan Parliament, Ageela Saleh announced the unanimous appointment of Bashagha as the new Prime Minister. He is set to replace the current PM of the Government of National Unity (GNU), Abdel-Hamid Dbaiba. But Dbaiba warned that the appointment of a new interim government could lead to war and chaos in the country. He renewed his pledge to only hand power over to an elected government.
In a statement, the Spokesman of the Egyptian Foreign Ministry, Ahmed Hafez said that Egypt has "confidence in the ability of the new Libyan government to expel all mercenaries and foreign forces out of the country, preserve Libya's unity and sovereignty, and pave the way for holding elections."
Hafez affirmed that Egypt is closely following the developments in Libya, and stressed that the "settlement of the Libyan crisis remains in the hands of the Libyan people alone, without any foreign interference."