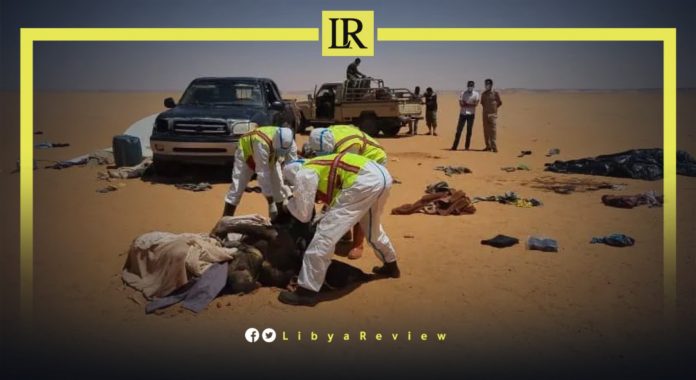 Spokesman for the Libyan Ambulance and Emergency Services, Osama Ali stated that they had recovered the bodies of 20 migrants, all of whom died of thirst in the desert.
Ali explained to "Ean Libya" that the bodies were found more than 310 km south of Kufra, on the border with Chad. He confirmed that the bodies were transferred to the city of Kufra, where legal procedures are being taken to bury them.
He said that their car had broken down due to a technical failure, in the middle of the desert. As well as adding that the Public Prosecution and the Judicial Control Department at the Kufra Police Station supervised the recovery process.
This is the third incident of its kind in 2022, including a Sudanese family who died in the middle of the desert, early this year.
The International Organization for Migration (IOM) published the 41st round of data collection for its Displacement Tracking Matrix (DTM) program in Libya for February, March, and April 2022.
IOM revealed that there were a total of 649,788 refugees from over 41 nationalities, in 100 Libyan municipalities during Round 41 of data collection (February – April 2022).
In line with a trend that started at the beginning of 2021, data collected by DTM Libya shows that the number of migrants in Libya has continued to rise. This is compared to the previous reporting period (635,051 migrants, Round 40, January 2022).
In 2020, the number of migrants in Libya declined as a result of the COVID-19 pandemic and the ensuing mobility restrictions, security controls, and economic downturn.
IOM explained that the removal of these mobility restrictions, improvement in the labour market (as seen in the reduced migrant unemployment rate), and cessation of armed conflict may have contributed to an increase in the number of migrants. This trend also corresponds with the arrival of seasonal migrant workers in Libya (generally between March and May).