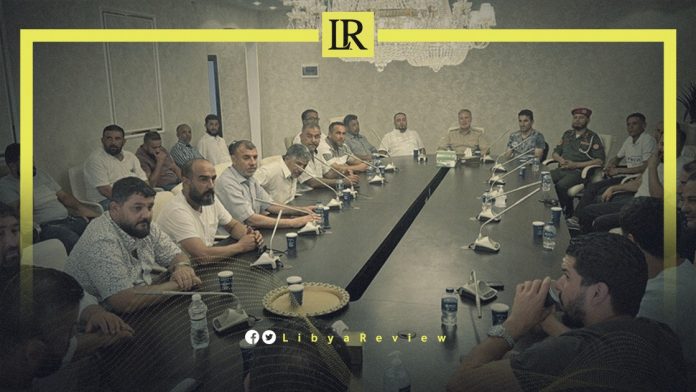 On Sunday, a number of Libyan military and field commanders from Misrata, Zintan, Al-Zawiya, and Warshafana issued a statement, after their meeting with the Head of the Joint Operations Room in the Western Region, Major General Osama Al-Juwaili.
"We meet today during these delicate circumstances that our country is going through, and the difficult challenges that our capital, Tripoli is facing. What is required is a strong stand against all the black hands and the obscurantists who want to attack our national unity," the statement read.
"Our meeting today is a message to all those who seek by all means to destabilize the security and stability of our country, and undermine the peace process in exchange for power. We meet today to confirm the unity of the ranks in the central and western regions, and the unity of the homeland in the east, west, and south. This is a sincere and clear message to all: we are with the national project stemming from the national will, without external interference. We affirm our support for the government headed by Fathi Bashagha, until it leads us to Presidential and Parliamentary elections," the statement added.
"We want a homeland that unites us, neither conqueror nor loser on this pure land. We are all here with the heart of one man, we look forward to reconciliation, tolerance, and construction," they claimed.
It explained that the following was agreed upon:
1- "We are with the legitimacy agreed upon by the Libyan parties represented by the government headed by Fathi Bashagha, without tutelage or external interference and away from corrupt money."
2- "We renew our demand for the immediate exit of all foreign forces and mercenaries from Libyan soil."
3- "The necessity of unifying the Libyan military institution in the east, west, and south. The unity of Libya is a red line."
4- "Rejecting blatant foreign interference in Libyan affairs. We value the mediation efforts that help us find solutions to the Libyan crisis, and that keeps our brothers away from sowing strife."
5- "We stand together against everyone who is tempted to prejudice the unity and soil of Libya. We support stability, security, and safety away from violence and strife."
6- "Supporting the efforts of Major General Osama Al-Juwaili in his national endeavours to resolve all disputes. As well as support the national goal of supporting the legitimacy stemming from the national will."