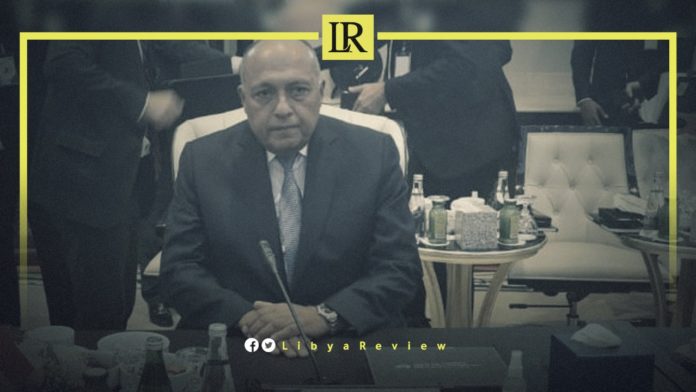 On Thursday, Egyptian Foreign Minister, Sameh Shoukry emphasised Egypt's continuous support for the Libyan people, in order to bring an end to the long-running turmoil in Libya.
Addressing the Libya Stabilisation Conference in Tripoli, which is aimed at resolving the country's thorniest issues ahead of general elections planned for December, he called on all Libyan parties to find common ground. He added that they needed to reach a "comprehensive national vision that addresses the root causes of the political, economic, and security crises" that Libya has been suffering from since 2011.
He also affirmed that Egypt will "do its utmost to support Libya's stability, and ensure the fulfilment of the people's aspirations to live in unity, security, and prosperity."
Earlier today, Shoukry discussed ways of providing a stronger impetus to realise a political settlement for the crisis in Libya, alongside his Libyan counterpart, Najla Al-Mangoush.
He asserted that the election process "is an important step that will enable the Libyan people to express their free will." He also called for all foreign forces and mercenaries to withdraw from the country to restore stability and sovereignty.
The Egyptian FM emphasised the need to press ahead with national reconciliation efforts to "realise an all-inclusive settlement for the Libyan conflict, and restore social peace and order to a united Libya."
Some 30 international delegates attended the conference, including Egypt, Algeria, Tunisia, Morocco, Sudan, Malta, Chad, Niger, Saudi Arabia, Qatar, UAE, Kuwait, Bahrain, Turkey, the United States, Britain, the Netherlands, France, Spain, Germany, Italy, Greece, Switzerland, Russia, China, and DR Congo. As well as the United Nations, European Union, African Union, and the Arab League.
The Conference comes two months ahead of planned presidential and parliamentary elections, which are scheduled for 24 December, as part of the political roadmap agreed to in the United Nations-led peace process.